The Center for Biological Diversity just keeps on pumping it out. Today, they released this new report (PDF).  The Executive Summary is pasted below.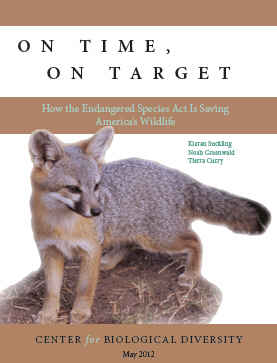 Critics of the Endangered Species Act contend it is a failure because only 1 percent of the species under its protection have recovered and been delisted. The critique, however, is undermined by its failure to explain how many species should have recovered by now. It is a ship without an anchor.

To objectively test whether the Endangered Species Act is recovering species at a sufficient rate, we compared the actual recovery rate of 110 species with the projected recovery rate in their federal recovery plans. The species range over all 50 states, include all major taxonomic groups, and have a diversity of listing lengths.

We found that the Endangered Species Act has a remarkably successful recovery rate: 90 percent of species are recovering at the rate specified by their federal recovery plan.

On average, species recovered in 25 years, while their recovery plan predicted 23 years — a 91 percent timeliness accomplishment.

We confirmed the conclusion of scientists and auditors who assert that the great majority of species have not been listed long enough to warrant an expectation of recovery: 80 percent of species have not yet reached their expected recovery year. On average, these species have been listed for just 32 years, while their recovery plans required 46 years of listing.

Many species that have not been listed long enough to reach their recovery goals increased dramatically since being protected by the Endangered Species Act:

| | |
| --- | --- |
| California least tern | 2,819%  increase in nesting pairs |
| San Miguel island fox | 3,830%  increase in wild foxes |
| Black-footed ferret | 8,280%  increase in the fall population |
| Atlantic green sea turtle | 2,206%  increase in nesting females on Florida beaches |
| El Segundo blue butterfly | 22,312%  increase in butterflies |

While many species are near or above the numeric population goal set by their recovery plan and will likely be delisted in the next 10 to 15 years, others also have strong recovery trends, but will not be delisted for many decades because their recovery plans require that much time to fully secure their fate.

The study's findings are similar to a 2006 analysis of all federally protected species in the Northeast, which found 93 percent were stabilized or improving since being put on the endangered species list and 82 percent were on pace to meet recovery goals.

When judged in the light of meeting recovery plan timelines for recovery, the Endangered Species Act is remarkably successful. Few laws of any kind can boast a 90 percent success rate.