Here is a follow-up to yesterday's post regarding the persistent and well-funded (by taxpayers) effort to make the climate "better" by not logging our nation's forests and continue letting them burn and rot instead, as we have been doing the past 20+ years: https://forestpolicypub.com/2013/09/26/forest-modeling-global-warming-academic-job-security/
This is the kind of irresponsible nonsense that made me develop a safe distance from "conservation biologists" in the first place. Oregon State University — including much of its College of Forestry, sadly — has brought in millions of taxpayer dollars during the past 20 years catering to this type of "science" while promoting Global Warming scare stories. Quite the racket.
From: Society for Conservation Biology
Published September 25, 2013 06:24 PM
Climate Change Insurance: Scientists Call on President Obama to Protect Public Forests
WASHINGTON – Scientists specializing in forest ecosystems and climate change called on President Obama today to protect public forests from logging and development in efforts to forestall global warming and compliment the president's recent proposal for tighter restrictions on coal-fired power plants.
New forest inventories show that the nation's forests absorb nearly one-quarter of our greenhouse gas pollutants if left undisturbed. In contrast, logging releases most of the carbon stored as carbon dioxide, a global warming pollutant.
The scientists discussed the role of carbon in forest management and climate change mitigation at a presentation at the Heinz Center for Science, Economics and the Environment.
"The nation's older forests cleanse the air we breathe, help regulate our climate, and provide clean drinking water for millions of Americans, said Dominick DellaSala, chief scientist of the Geos Institute and president of the Society for Conservation Biology North America Section. "Cutting these forests down is no different than releasing carbon dioxide pollutants from coal-fired power plants."
In June, President Obama announced a bold Climate Action Plan that builds on his 2009 pledge to reduce America's greenhouse gas pollution by 2020. The plan specifically refers to the importance of forests in climate change, noting that the conservation and sustainable management of forests helps to remove carbon from the atmosphere and that the Administration is working to identify new approaches to protect and restore forests and other critical landscapes in the face of a changing climate.
Pointing to forests in the Pacific Northwest, Dr. Bev Law, a forest carbon scientist at Oregon State University, said that forests play a critical role in mitigating climate change. Forests in this region and the Tongass rainforest in Alaska store more carbon acre for acre than nearly any ecosystem on earth.
"Protecting carbon stored in these forests and reforesting abandoned fields would help mitigate global warming," Law said.
Forests are a critical part of the global atmospheric carbon cycle that contribute to climate stabilization by absorbing (sequestering) and storing vast amounts of carbon dioxide in trees (live and dead), soils and understory foliage. As a forest ages, it continues to accumulate and store carbon, functioning as a net carbon "sink" for centuries. Ongoing carbon accumulation and storage have been measured in forests more than 800 years-old.
"Approximately half of the carbon stored in an old-growth forest is emitted as CO2 when it is converted to a tree plantation, via decomposition of logging slash, fossil fuel emissions from transport and processing, and decay or combustion (within 40-50 years) of forest products, often in landfills," said Dr. Mark Harmon, a forest carbon scientist at Oregon State University. "Planting or growing young trees does not make up for this release of CO2 from a logged forest."
Globally, deforestation and forest degradation contribute about 17 percent of the world's annual greenhouse gas pollutants, more than the entire global transportation network, which is why many countries are seeking ways to reduce greenhouse gas pollutants from logging. Part of the solution to global warming must come from reducing emissions from forest losses, as recognized by the United Nations REDD+ (Reduce Emissions from Deforestation and Forest Degradation) Programme in developing countries. The U.S. can provide these countries with a leadership example by conserving its own older forests.
"If we manage the planet like the linked biological and physical system that it is, we can reduce potential climate impact to a significant degree," Dr. Thomas Lovejoy, Biodiversity Chair at the Heinz Center for Science, Economics and the Environment, said.  "Forests are critical to this and U.S. leadership would be exceedingly welcome."
President Obama has not announced specific measures on limiting forestry related global warming emissions or protecting carbon stored in older forests on public lands and, according to these scientists, has a unique opportunity to leave Americans with a legacy of climate change insurance by enlisting older forests in efforts to curtail global warming.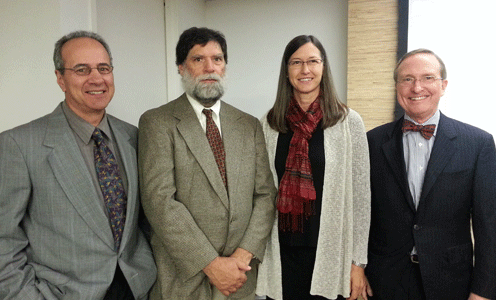 Left to right Drs. Dominick DellaSala, Mark Harmon, Beverly Law and Tom Lovejoy presented at "The Role of Forests in Mitigating Climate Change" at the Heinz Center for the Science, Economics and Environment on Sept. 25, 2013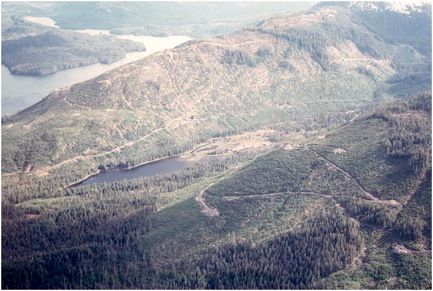 Logging in the Tongass rainforest releases vast amounts of CO2 as global warming pollutant
The Society for Conservation Biology (SCB) is an international professional organization dedicated to promoting the scientific study of the phenomena that affect the maintenance, loss, and restoration of biological diversity.  The Society's membership comprises a wide range of people interested in the conservation and study of biological diversity: resource managers, educators, government and private conservation workers, and students make up the more than 4,000 members world-wide.
Contact Info: Nathan Spillman
[email protected]
202-234-4311 (x114)